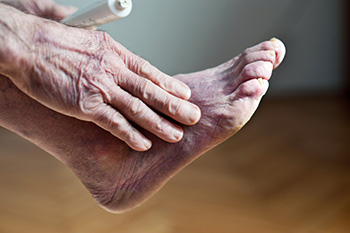 New parents ought to be aware of signs of poor circulation in infants, as this condition can negatively impact the health of your infant. Importantly, poor circulation might be normal for a few hours following birth, however, persistent poor circulation can require medical attention. The feet can play an important role in helping you identify poor circulation in an infant. For example, if the feet feel cold to the touch, this might be indicative of a lack of sufficient blood circulation. The hands might feel cold as well. Often, the feet can give us important signals that we should not ignore. If you are a new parent or are expecting to be, see a podiatrist today to learn about the many ways in which you can care for your infant's feet. This foot specialist will be able to help you develop a plan and teach you what signs to look for.
Poor circulation is a serious condition and needs immediate medical attention. If you have any concerns with poor circulation in your feet contact Matthew McQuaid, DPM of Lake Mendocino Podiatry. Our doctor will treat your foot and ankle needs.
Poor Circulation in the Feet
Poor blood circulation in the feet and legs is can be caused by peripheral artery disease (PAD), which is the result of a buildup of plaque in the arteries.
Plaque buildup or atherosclerosis results from excess calcium and cholesterol in the bloodstream. This can restrict the amount of blood which can flow through the arteries. Poor blood circulation in the feet and legs are sometimes caused by inflammation in the blood vessels, known as vasculitis.
Causes
Lack of oxygen and oxygen from poor blood circulation restricts muscle growth and development. It can also cause:
Muscle pain, stiffness, or weakness   
Numbness or cramping in the legs 
Skin discoloration
Slower nail & hair growth
Erectile dysfunction
Those who have diabetes or smoke are at greatest risk for poor circulation, as are those who are over 50. If you have poor circulation in the feet and legs it may be caused by PAD and is important to make changes to your lifestyle in order to reduce risk of getting a heart attack or stroke. Exercise and maintaining a healthy lifestyle will dramatically improve conditions.
As always, see a podiatrist as he or she will assist in finding a regimen that suits you. A podiatrist can also prescribe you any needed medication. 
If you have any questions please feel free to contact our offices located in Lakeport and Ukiah, CA . We offer the newest diagnostic and treatment technologies for all your foot and ankle needs.
Read more about Causes Symptoms and Treatment for Poor Circulation in the Feet