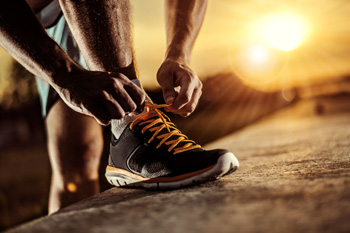 Finding the correct running shoes for you, and your style of running is important because they provide a foundation for your body. The right shoes will fit well from the start, and should not have to be broken in. Most runners find it helpful to be aware of what type of surface they plan to run on. The choices are generally gravel paths or trails, and there are running shoes that are made for both types. Research has shown that the majority of running shoes will last between four to five hundred miles, which equates to three to four months for regular runners. Shoes that are made to run on roads or pavements are made of light and flexible materials, and have smoother soles. Cleats are found on shoes that are made for trails, which can provide a better grip. If you are a runner, or are considering running as a hobby, please check with a podiatrist who can answer any questions you may have about how to choose the pair of running shoes for you.
You should always make sure your running shoes fit properly in order to avoid injury. For more information, contact Matthew McQuaid, DPM from Lake Mendocino Podiatry. Our doctor can provide the care you need to keep you pain-free and on your feet.
Choosing the Right Running Shoe for Your Foot Type
Improper shoe sizing can cause a myriad of problems for your feet. Shoes that don't fit you properly can lead to muscular imbalances in your body, which can result in foot, knee, and hip injuries.
Tips for Finding the Right Running Shoe
Make sure you have a thumb's width of wiggle room between the end of your longest toe and the front of the shoe.
There should be little to no slipping at the heel
Don't assume your size in one shoe brand will be your size in another
Do not lace up your shoes too tightly
Walk around in the store with your new shoes before you buy them
If you have any questions please feel free to contact our our offices located in Lakeport and Ukiah, CA . We offer the newest diagnostic and treatment technologies for all your foot and ankle needs.
Read more about Choosing the Right Running Shoe for Your Foot Type