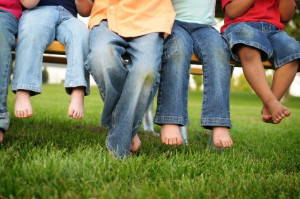 A condition called juvenile plantar dermatosis is a fancy term for dry skin on the feet. It usually affects children between the ages of 3 and 14 and is most prevalent around the age of 8. It rarely affects adults and diminishes in children when they reach puberty. Causes include friction from the sole rubbing inside the shoe, wearing synthetic shoes or shoes that do not "breathe," and excessive sweating followed by rapid drying that leads to cracks in the skin. With plantar dermatosis, the soles of the feet typically become red, shiny, itchy, or sore and take on a glazed appearance. It usually affects both feet starting with the big toe and results in painful fissures, cracking, and scaling. For this reason, it may be confused with athlete's foot or eczema. Treatment includes wearing shoes that fit well and are not made of leather or plastic, avoiding synthetic socks, and applying moisturizing cream daily. To find out more about plantar dermatosis in your child, please consult a podiatrist who can rule out other causes and prescribe the appropriate medication. 
The health of a child's feet is vital to their overall well-being. If you have any questions regarding foot health, contact Matthew McQuaid, DPM of Lake Mendocino Podiatry. Our doctor can provide the care you need to keep you pain-free and on your feet.
Tips for Keeping Children's Feet Healthy
Make sure their shoes fit properly
Look for any signs of in-toeing or out-toeing
Check to see if they have Clubfoot (condition that affects your child's foot and ankle, twisting the heel and toes inward) which is one of the most common nonmajor birth defects.
Lightly cover your baby's feet (Tight covers may keep your baby from moving their feet freely, and could prevent normal development)
Allow your toddler to go shoeless (Shoes can be restricting for a young child's foot)
Cut toenails straight across to avoid ingrown toenails
Keep your child's foot clean and dry
Cover cuts and scrapes. Wash any scratches with soap and water and cover them with a bandage until they've healed.
If you have any questions, please feel free to contact our offices located in Lakeport and Ukiah, CA . We offer the newest diagnostic and treatment technologies for all your foot care needs.
Read more about What to Do to Keep Your Child's Feet Healthy